NINA NOLTE – TRANSFORMING STANDARD CARS INTO ARTISTIC MASTERPIECES
Nina Nolte is an artist with a penchant for classic vehicles. She finds joy in enhancing their already exquisite designs. The artist gravitates towards iconic brands that embody a distinct lifestyle.
Her venture into vehicle artistry began already in 1996 when she crafted her first ART CAR for a client in Marbella, a Wrangler Jeep that has since become a local classic. Notably, this artistic creation still graces the streets of Marbella, delighting onlookers.
In the same year, Nina Nolte took on the task of adorning an American truck for the Munich-based company Food Carrier.
There are several methods for applying art to a vehicle:
Car Paint Shop
In this process, art is applied to the motor bike using specialized automotive paint, followed by multiple clear coats. This method is the most durable and long-lasting, as demonstrated by the enduring appearance of the Jeep even after three decades.
Full Foiling
This is a slightly more economical option. A vinyl film, pre-printed with the chosen art, is applied to cover the entire body of the vehicle.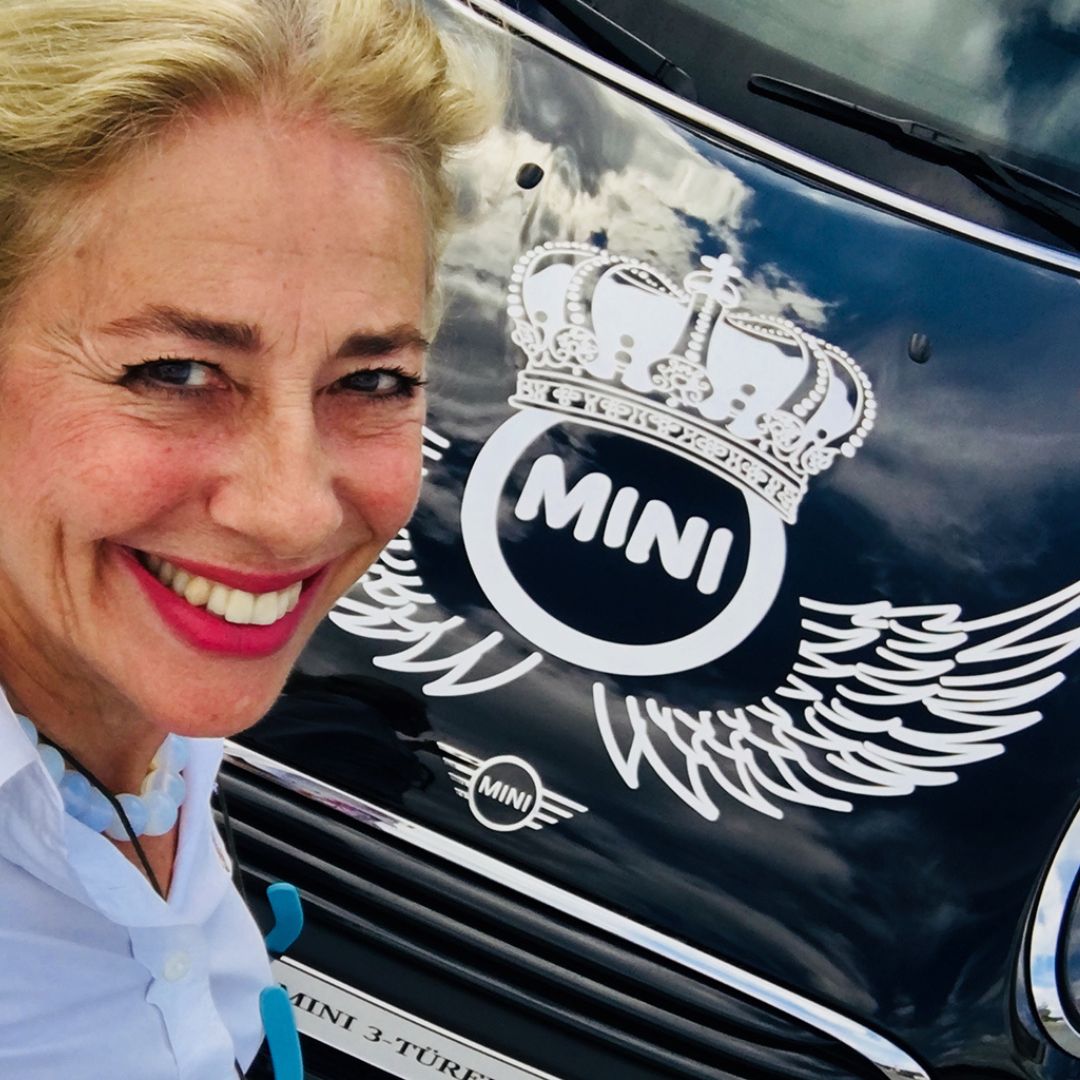 Stickers
Created from the same car foil used by MINI for their rally stripes, this is the most cost-effective option.

This mobile exhibition, named YOUNG EUROPEAN ART, showcased the work of over twenty artists on the company's fleet of food trucks. The signing event for Nina Nolte's truck, alongside another artist's, took place in front of the Bahlsen Museum in Hanover.
The city center was temporarily closed, allowing a procession of vintage cars to accompany the two trucks to the museum. A notable guest at this event was the future German Chancellor, Gerhard Schröder, who stood with Nina Nolte on a ladder for the ceremonial signing in front of journalists.
Since 2016, Nina Nolte has continued her vehicle artistry, extending her creative touch to four-wheelers as well. This means that anyone can now transform their entire vehicle into a captivating work of art. For those seeking a more subtle touch of individuality, Nina offers to design the exterior mirrors, a distinctive feature for any vehicle, such as a MINI.
For Nina Nolte, driving a personalized, attention-grabbing vehicle is a source of great pleasure. Are you intrigued?
Art tailored specifically to your vehicle is an option. Alternatively, you can choose from an existing design.
Here are two examples of comprehensive vehicle designs using stickers (all sold):
"MINI KW" (Königs Wusterhausen)
from the MINI NINA NOLTE CITY EDITION, designed for the car dealer Wernecke near Berlin.
"MINI Ruhrpott" designed for the car dealership Autowelt Schmidt in the Ruhr area of Germany. In this case, the roof of the MINI was fully foiled.
"MINI Ruhrpott" designed for the car dealership Autowelt Schmidt in the Ruhr area of Germany. In this case, the roof of the MINI was fully foiled.
"MINI MY FUNNY VALENTINE"
Additionally, there's the "MINI MY FUNNY VALENTINE," featuring the lyrics of the renowned song of the same name, famously interpreted by Frank Sinatra and Ella Fitzgerald. It's the perfect accompaniment for a sunny, top-down drive. Currently, Nina Nolte enjoys driving this personalized MINI, complete with red-painted side mirrors.
Contact us for more information!
If you are interested in driving a personalized bike by Nina Nolte contact us for more information!
THE CREATION OF 3 ART CARS