NINA NOLTE ON THE ARTIST NINA NOLTE
I was born in El Salvador and grew up in Barcelona, Spain, and Germany. My artistic journey began in 1991 with my first exhibition at Galerie Inter Art in Munich. Since then, I've showcased my works in galleries and art fairs across five continents.
In 2012, I received working grants for Paris and Harlösa, Sweden, and was nominated for the Kunstpreis Worpswede in 2017.
My artworks have found a home in two museums – MARTE (Museo de Arte Moderno de El Salvador) and the MAC Museum (Museum for Art and Cars, Singen/Germany) – as well as in many public and private art collections.
I am a proud member of the Rainforest Art Foundation, Europe. Our mission is to increase appreciation of nature through art.
Compassionate about aiding those in need and supporting charitable institutions, my art has been a driving force for over three decades in assisting clinics, orphanages, facilities for the disabled, and organizations dedicated to individuals affected by conditions like HIV, breast cancer, cystic fibrosis, and butterfly skin disorder.
Many people wonder
how I ended up
becoming an artist.
From an early age, my passion for painting was evident. My school notebooks are a testament to this, with art and craft lessons being my most cherished subjects. At the German School Barcelona, Spain, I was fortunate to have a wonderful art teacher who recognized and nurtured my artistic abilities.
Even at the age of eight, I took pleasure in expressing myself artistically on unconventional surfaces. I vividly recall embellishing my first boring children's glasses with adhesive tape and felt-tip pens. Of course, I only wore them at home.
It was during this time that my love for conveying ideas with minimal strokes began to take shape. While there are no surviving photos of those glasses, I have many of a chair, a piece I would paint many decades later.
My characteristic figures, known as CHICOS and the distinctive angular forms called PADDLES, origination from that time, have also found expression in my jewelry designs, lamps, clothing, ceramic tiles, carpets, and even on vehicles like Jeeps, MINIs, and Vespas.
Here, I'd like to mention also my series BODEGONES – STILL LIFES, which emerged from that phase of life too, featuring vividly painted large tulips, arranged on chairs or tables and adorned with various of my typical symbols.
Coming from a family without an artistic background meant I was initially steered towards a conventional career path. The prevailing sentiment was, "Child, focus on your languages; you won't make a living with art." But I wasn't content with that. In the early nineties, I finally managed to transition my passionate hobby of painting into a profession.
In the end, it was art professor Robin Page from the Munich Art Academy who guided me towards forging my own artistic path. Although I initially considered applying for a degree under his mentorship, he wisely dissuaded me. Robin believed it would be a disservice to my already advanced talent to begin from scratch. He advised me to press on with my own creative journey, and I followed his counsel. Unfortunately, Robin Page passed away in 2015. I'm grateful to him, as well as to my lovely art teacher in Barcelona, who also departed too soon.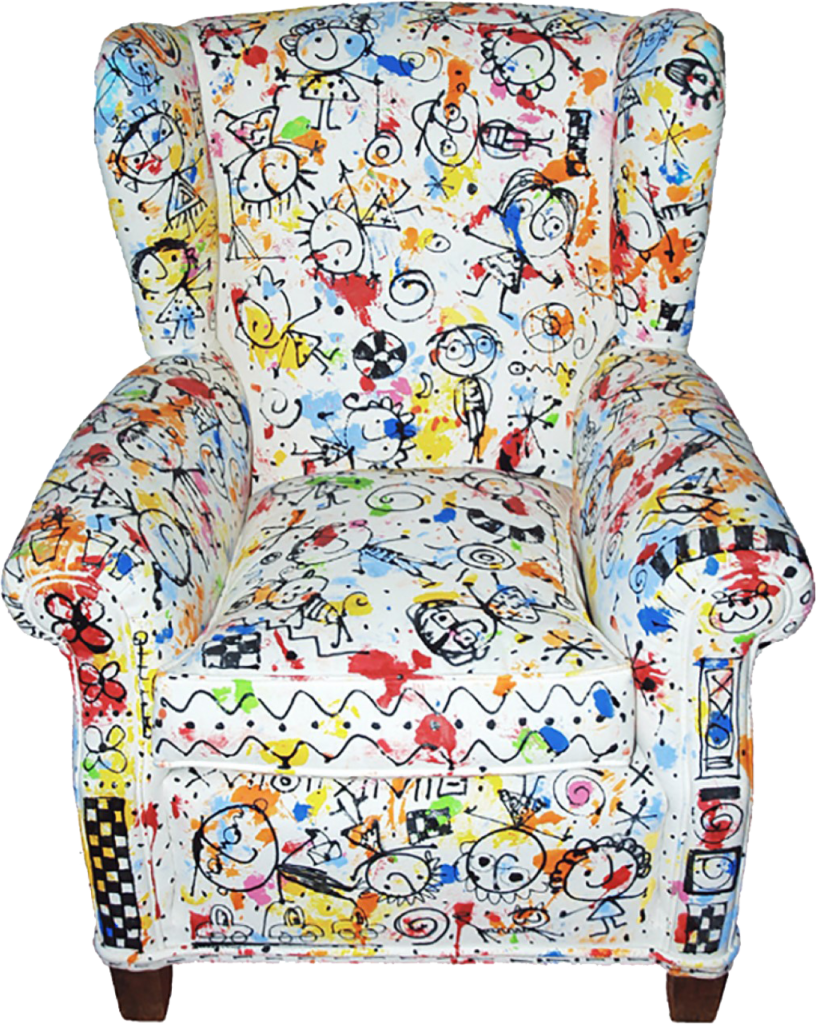 After thirty six years I can reflect on nearly two thousand cataloged original pieces.
My customers now have the opportunity to buy high-quality reproductions in three standard sizes here in the online shop.
Among those cataloged works, there are also around a hundred large-scale commissioned portraits. (It goes without saying that no reproductions of these commissioned works are made and sold.)
From these realistic portraits, an intriguing evolution emerged. I started capturing spontaneous moments with my big Nikon, for many years a constant companion in my handbag. These were fleeting scenes I had witnessed but couldn't capture in the moment. Subsequently, I delved into working with these candid photos, crafting compositions in Photoshop from them and I started doing photo shots also under water. This marked the genesis of my newfound painting style: a blend of realism influenced by Pop Art. The compositions or digital sketches were further broken down into many small photo excerpts, which I pinned to the canvas to study the details while painting. This method serves as an excellent substitute for model sitting.
Unfortunately, this shift meant putting aside my symbolic and minimalist approach. My CHICOS and PADDLES vanished for nearly two decades, given the substantial difference between the two styles. Nevertheless, I relished the formidable challenge presented by this Pop Art-infused realism, fully embracing the daily hurdles it brought. Each realistic painting presented fresh conundrums to tackle, right up to the very last canvas on my easel.
What defines good art? It should draw the viewer in, prompting them to revisit it, always discovering something new. A good artwork should also be able to tell a story.
For me composition and color selection are crucial criteria in creating artwork, but I revel in the extraordinary challenge that realistic painting poses – specially depicting water, fabric folds, hands, hair, and foreshortening in such a way that the image appears almost tangible. Skillful handling of light and shadow is essential for this effect. I believe I have quite mastered it. 😉
A prime example of successful composition, with lights and shadows, that create this special atmosphere and foreshortening is my large-scale masterpiece YOU AND THE NIGHT AND THE MUSIC. Like many of my works, it provides my favourite perspective for telling stories, the bird's eye view of the scene: a lively gathering of twenty-one revelers at a gala, including myself, the artist. This piece belongs to my series GOOD TIMES, executed in acrylic, colored pencil, and pastel on canvas. Since one of the featured dancers objected to being reproduced, I promptly added a blindfold and a small beard. I then christened the modified piece BLINDMAN'S BLUFF. This updated version is also now accessible in the online shop.

Critics have noted about this artwork: "The voyeuristic perspective of the artist from slightly above, along with life-sized figures, exudes an allure that almost pulls the viewer into the painting." They go on to say: "Through the painting technique bordering on photography and painting, the convivial revelry of this gathering, as depicted by Nina Nolte, is elevated to an artistic level.

The digital sketch for this artwork, which served as the basis, required over eighty hours in Photoshop to create, incorporating more than fifty photo snippets. I worked on the painting for six weeks at my large easel. The piece measures 260 cm in width and 150 cm in height, painted with acrylics, colored pencils, and pastel colors on canvas. The process was documented with over 20 photos. I appear twice in the painting: once as the woman in the green dress in the background, and then as the hands and back of the dancing woman with the brown-golden dress in the center of the circle.
Since I was a kid growing up by the ocean, I've always been fascinated by water. That's probably why this element features so prominently in my series THE BEST IS YET TO COME. In these artworks, I paint elegant women who exude a sixties vibe, often wearing stylish turbans and enjoying their intimacy and a drink by the pool.
Water also takes center stage in my "POOL PAINTINGS," where I capture the playful energy of kids underwater. For these shots, I still rely on my Nikon with a special underwater case. I even traveled to the US – once to sunny San Diego, California, and another time to New York for water shoots. The second trip was thanks to a special request from Gallery Sara Nightingale in Watermill, Long Island NY, where I had the pleasure of showcasing my work for several years.
Another series is STARS IN SPOTLIGHT, featuring portraits of celebrities like the former German Chancellor Helmut Schmidt and the composer Richard Wagner.
In Weimar, I had the opportunity to meet Wagner's great-granddaughter at an exhibition commemorating her renowned grandfather's 200th birthday in 2013.
Last but certainly not least, there's my series WHEELS AND WINGS, where I revisit the vibrant fifties and indulge in another passion: vintage cars, both on the roads and in the skies. This fascination undoubtedly traces back to my early childhood. My mother owned a magnificent Cadillac in San Salvador, where I was born. And at the age of one and a half, I crossed the Atlantic with her aboard a four-propeller DC 7C of the Pan American Airlines, PAA. I paid homage to that era in my square painting TWO SUPER CONNYS, also available in our online shop.
Seven years ago, I transitioned from working at an easel to exclusively using my WACOM drawing board. This change was necessitated by arthritis in both hands, but it also granted me the freedom of location after three decades in my studio with an easel.
The tablet accompanies me even on my travels, ensuring I always have my studio, colors, and brushes with me.
I'm in good company with esteemed fellow painter David Hockney, who shares a similar fate. This new medium expands our artistic horizons, offering exciting possibilities for creative expression on various materials, even in large formats.
Artwork on tablet
MY digital era
Creating an artwork on the tablet demands the same dedication as I used to invest in canvas paintings. However, unlike working directly on canvas, we have the flexibility to adjust the size later if needed. My digital art has been well-received by clients, particularly my mixed-media digital portraits. So I've been commissioned for numerous portraits, from individuals to large families. And thanks to new technologies, my clients can now choose from a range of materials for their portrait or commissioned art, including eco-friendly and recycled fabric, acrylic glass for humid areas, or ceramics for outdoor use. There's also the option of having art as a light source in the form of a lightbox.
Recently, I created a 170 x 300 cm portrait featuring the entire team of 63 people from a German company. Another notable project involved four 140 x 140 cm artworks for the Berlin Shopping Mall Q 205, where I integrated the both creations of two American artists, already present in the building: John Chamberlain's eleven-meter-high "Tower of Klythie" and Sol LeWitt's expansive fresco "The Wave."

The WACOM tablet is also invaluable for my designs on Art Cars and Art Motor Bikes.
In 2018, I relocated once more, this time from Berlin to Marbella, Spain, where I live with my actual husband.

I previously co-owned a gallery on the main road of San Pedro and a little finca with my former husband and manager. The life on that finca served as inspiration for another series, BEES FLIGHT, which explores the flora and fauna from the perspective of a bee.
ART STUDIO - PANORama 187
Actually, you can find my studio and office at PANORAMA 187 in Marbella.
Don't hesitate to pay us a visit!
But just give us a call beforehand, as we might be out for clients.